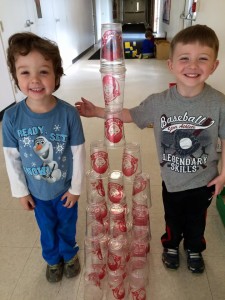 2017 CALENDAR OF HOLIDAY CLOSINGS
Friday              April 14, 2017               Good Friday
Monday           May 29, 2017                Memorial Day
Monday           July 3, 2017                   Independence Day Floater
Tuesday          July 4, 2017                   Independence Day
Monday           September 4, 2017        Labor Day
Monday           October 9, 2017             Columbus Day
*Staff Development Day*
Thursday        November 23, 2017        Thanksgiving Day
Friday             November 24, 2017        Thanksgiving Floater
Monday          December 25, 2017        Christmas Day
Tuesday         December 26, 2017        Christmas Floater
Monday          January 1, 2018              New Year's Day
The Center is open M to F, 7:00 a.m. to 6:00 p.m. except for the following:
Family Picnic-Center Closes at 5:00 pm
Family Halloween Party-Center Closes at 5:30 pm
If the center is closed on a special lunch day ( MONDAY ) then special lunch will be provided on the next day we are open
*There are no fee reductions for days closed.  Part-time children may request make-up days within the holiday week.  Requests are subject to available space.
PRE – K 2016-2017 SCHOOL CALENDAR
*Please note that Pre-K follows the Brighton school calendar. Therefore, there are some days when there is no Pre-K for the Pre-K only children but the center is still opened.*
Monday, Sept, 5                           CENTER CLOSED – Labor Day
Tuesday, Sept. 6                          FIRST DAY of PRE-K
Mon. &Tues., Oct. 3-4                  NO Pre-K – Rosh Hashanah (Center Open)
Monday, October 10                    NO Pre-K – Columbus Day (Center Closed)
                                                     CENTER CLOSED– Staff training day
Tuesday, October 11                    NO Pre-K (Center Open)
Wednesday, Oct 12                      NO Pre-K – Yom Kippur (Center Open)
Friday, November. 11                    NO Pre-K- Veterans' Day (Center Open)
Wed.-Fri., Nov. 23-25                    NO Pre-K – Holiday Recess
Thurs.-Fri., Nov. 24-25                  CENTER CLOSED – Holiday Recess
Friday, Dec. 23-Jan. 2                    NO Pre-K – Holiday Recess
Friday-Monday Dec. 23-26             CENTER CLOSED – Holiday Recess
Friday, Dec. 30                               CENTER CLOSES – New Year's Floater
Monday, January 16                        NO Pre-K – MLK Day (Center Open)
Monday-Friday, Feb. 20-24             NO Pre-K Mid-Winter Recess (Center Open)
Friday, April 14                                CENTER CLOSED – Good Friday
Mon, April 17-Friday April 21           NO Pre-K Spring Recess (Center Open)
Monday, May 29                              CENTER CLOSED – Memorial Day
Thursday, June 22*                          Last day of Pre-K *
2016-2017 KINDERGARTEN SCHOOL CALENDAR
*Please note that Kindergarten follows the Brighton school calendar. Therefore, there are some days when there is no Kindergarten for the Kindergarten only children but the center is still opened.*
Monday, Sept. 5                                 CENTER CLOSED– Labor Day
Tuesday, Sept. 6                                First day of Kindergarten
Mon. & Tues., Oct. 3-4                       No Kindergarten – Rosh Hashanah (Center Open)
Monday, October 10                           No Kindergarten – Columbus Day (Center Closed)
                                                            CENTER CLOSED – Staff training day
Tuesday, October 11                          Superintendent's Conference Day (Center Open)
Wednesday, Oct 12                             No Kindergarten- Yom Kippur (Center Open)
Friday, November 11                           No Kindergarten-Veterans' Day (Center Open)
Friday, November 18                            ½ Day- CENTER OPEN
Wed.-Fri. Nov. 23-25                            No Kindergarten -Thanksgiving Recess
Thurs.-Fri. Nov. 24-25                          CENTER CLOSED-Thanksgiving Recess
Friday, December 9                             Early Release Day-11:45
Wed., Dec. 23-Mon. Jan. 2                  No Kindergarten – Holiday Recess
Friday –Monday, Dec. 23-26               CENTER CLOSED – Holiday Recess
Friday, Dec 30                                     CENTER CLOSED – New Year's Floater
Monday, January 16                            No Kindergarten – MLK Day (Center Open)
Mon.-Fri. Feb. 20-24                           No Kindergarten Mid-Winter Recess (Center Open)
Friday, April 14                                   CENTER CLOSED– Good Friday
Mon. April 17- Fri. April 21                  No Kindergarten– Spring Recess (Center Open)
Friday, May 26                                    Early Release Day- 11:45
Monday, May 29                                 CENTER CLOSED – Memorial Day
Wednesday, June 21                          Kindergarten Graduation 9:30
Thursday, June 22*                            Last Day of Kindergarten*