Welcome to Pre-K!
Our Pre-K room is a positive environment where children are encouraged to feel free to be themselves. Each child's unique personality is respected and appreciated, making our class a team whose members support each other through learning and playing. Our ultimate goal is to create a life-long love of learning, while helping them develop the academic and social skills needed for Kindergarten.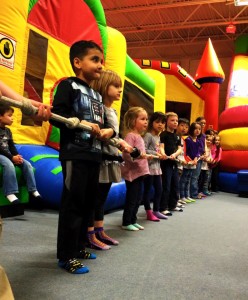 Each day, academic skills are developed through fun, hands-on activities that get our students excited about learning! In addition, we leave time for the imaginative free-play that helps children learn social skills, such as communication and learning to be a kind friend. Our students are encouraged to problem solve for themselves, so when they leave our Pre-K our program, they will be confident Kindergartners.
The Pre-K room is taught by a NYS certified teacher who is assisted a Level I teacher and teachers aide. Our pre-k program is exclusive to children who are 4 years by December 1st.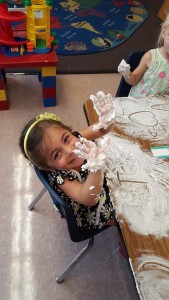 Formal instruction takes place from 9 am until 12 pm, Monday through Friday, following the Brighton School calendar. Full day care is also provided as well as part time hours making this program ideal for working families!
For more information, call 244-3650