Hello friends and welcome to the Toddler Room!
Your child's teachers recognize and respect your feelings as a parent, especially a first time parent regarding your child moving up from the Infant room or just beginning in child care.
The Toddler Room provides a safe and nurturing environment where your child will be given opportunities to succeed developmentally through a variety of activities such as teacher directed curriculum, exploratory play and teacher observing the child's interest. Your child will be encouraged to learn a sense of individualism while learning to respect others individuality
.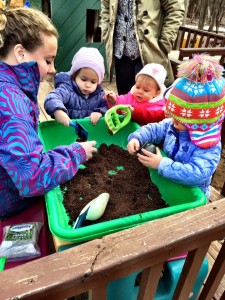 Each November and May you will receive written observations on your child's growth and development with the opportunity to schedule a parent-teacher conference. We are available to meet with you at any time during the year should the need arise.
The Toddler Room is overseen by the Level II teacher who is assisted by a Level I and Teacher Aid. Your child will be assigned to a teacher in the room known as their primary caregiver. The Toddler Room team, together with you as a parent will strive to provide the best care possible for your child. Our ratio is 1:4 because we feel it is important to have smaller groups to provide the best care possible for your child.
For more information 585-244-3650